There are two books that I read within the last year or so with very similar titles...
The Virgin's Daughters
by Jeane Westin and
The Virgin Queen's Daughter
by Ella March Chase. Both novels were excellent. I look forward to reading more by each of these authors. Both of them were new to me.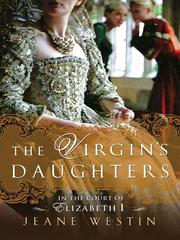 The Virgin's Daughters
by Jeane Westin:
In a court filled with repressed sexual longing, scandal, and intrigue, Lady Katherine Grey is Elizabeth's most faithful servant. When the young queen is smitten by the dashing Robert Dudley, Katherine must choose between duty and desire-as her secret passion for a handsome earl threatens to turn Elizabeth against her. Once the queen becomes a bitter and capricious monarch, another lady-in-waiting, Mistress Mary Rogers, offers the queen comfort. But even Mary cannot remain impervious to the court's sexual tension-and as Elizabeth gives her doomed heart to the mercurial Earl of Essex, Mary is drawn to the queen's rakish godson..
I see on Amazon that Westin has another book out now called
His Last Letter: Elizabeth I and the Earl of Leicester
which I will have to add to my growing to-read list.
Here's a review from Publisher's Weekly of
The Virgin Queen's Daughter
by Ella March Chase:
Tudor intrigue inspires yet another historical romance in this story of a willful girl who discovers she is the Virgin Queen's illegitimate daughter. Five-year-old Elinor (Nell) de Lacey is the apple of her scholarly father's eye, and while the two are visiting the Tower of London, Nell makes a childish attempt to rescue Princess Elizabeth. By the time Nell turns 16, Elizabeth is queen, Nell's father is dead and Nell, over her mother's objections, heads to court. In short order, she's exposed to the court's conspiring and cajoling, seducing and betraying, plotting and protecting. A symbol of that world, Lady Jane Grey, haunts Nell as she uncovers the truth about her birth while trying to resist the charms of Sir Gabriel Wyatt. When Nell arouses Elizabeth's suspicions and possibly her wrath, Baroness de Lacey, once a lady-in-waiting herself, returns to court to prove the power of a mother's love. While Chase is no Philippa Gregory, her novel should still be manna for fans of Tudor romance infused with interludes of torture and head-rolling between the dance lessons and marriage rumors.